Hepatitis C interview series launched in Arabic Multicultural HIV and Hepatitis Service (MHAHS) has launched an interview series to increase hepatitis C awareness in the Arabic community. Produced by the Arabic Community Development Project, the series features leading members of the Arabic community in NSW discussing hepatitis C and its impact on the community.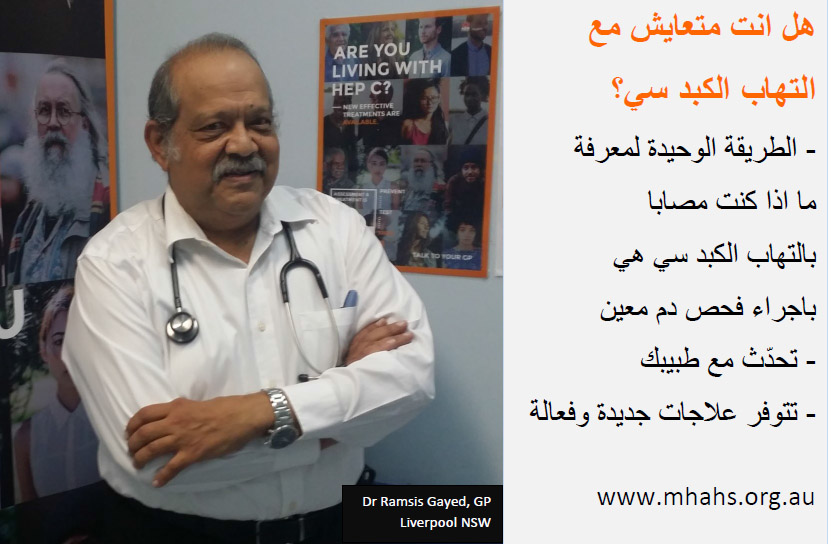 The first two interviews in the series feature Dr Ramsis Gayed – a popular Arabic-speaking medical doctor based in Sydney's Liverpool area. Dr Gayed's interview explores the scale of the global epidemic and offers his insight on how the community may tackle the issue.
"Hepatitis C is a global epidemic with more than 130 million people living with chronic hepatitis C worldwide. There are nearly 20 million people living with chronic hepatitis C in the Arab world. More than 230,000 people are estimated to be infected with hepatitis C in Australia. People from Arabic-speaking backgrounds in Australia are also affected but many remain unaware they have the virus," said Dr Gayed.
While hepatitis C is transmitted mostly through sharing of injecting equipment in Australia, many in the Arabic community may have been infected before coming to Australia through unsterile medical procedures overseas, such as mass immunisation programs or unscreened blood 20-30 years ago.
The word "hepatitis" means inflammation of the liver and is most often caused by a virus. There are many different viruses that can cause hepatitis, including hepatitis A, B and C. The hepatitis B and hepatitis C viruses, which are transmitted in different ways, are the only hepatitis viruses that can cause long-term liver damage.
"Hepatitis C is transmitted when blood from one person with hepatitis C enters the blood stream of another person. The only way to find out if you have hepatitis C is to ask your doctor for a specific blood test called hepatitis C test. There are also effective treatments available now," said Dr Gayed.
In the third interview of the series, Sydney resident, Mr Wesam shares his experience of living with chronic hepatitis C for many years and how liver transplantation saved his life.
"There is a lot of silence surrounding hepatitis C in our community. As a result, we don't get tested on time. Late testing means people like me don't get the necessary treatment and care on time. Liver transplant, therefore, became a necessity for me," said Mr Wesam.
The final interview in the series features Ms Faten Solaqa, the Project Officer of the Arabic Community Development Project, sharing her experience of working on the project which has seen numerous initiatives implemented to increase awareness of hepatitis C testing and treatment in the community.
The interviews are supported by a series of written articles and will be released in the coming weeks here at www.mhahs.org.au.
- End
For media interviews, please ring Sonam Paljor on 9515 1234