2020 World Hepatitis Day/Hepatitis Awareness Week

People from diverse communities are being urged to get tested for hepatitis B as part of a new campaign by the Multicultural HIV and Hepatitis Service to support World Hepatitis Day 2020. The Are you living with hepatitis B? Find Out. Get Tested campaign aims to raise awareness of hepatitis B testing and treatment in Arabic-speaking, Chinese-speaking, Korean and Vietnamese communities living in NSW.
World Hepatitis Day rightly refocuses our attention to viral hepatitis work and urges communities to take care of their health by asking their doctor for a hepatitis B test, according Barbara Luisi, Director of the Diversity Programs and Strategy Hub.
"We have made a lot of progress towards eliminating viral hepatitis from the world. While COVID-19 has had an impact on most essential services, we have also worked hard and adapted how we promote our hepatitis B testing and treatment services in the community," said Ms Luisi.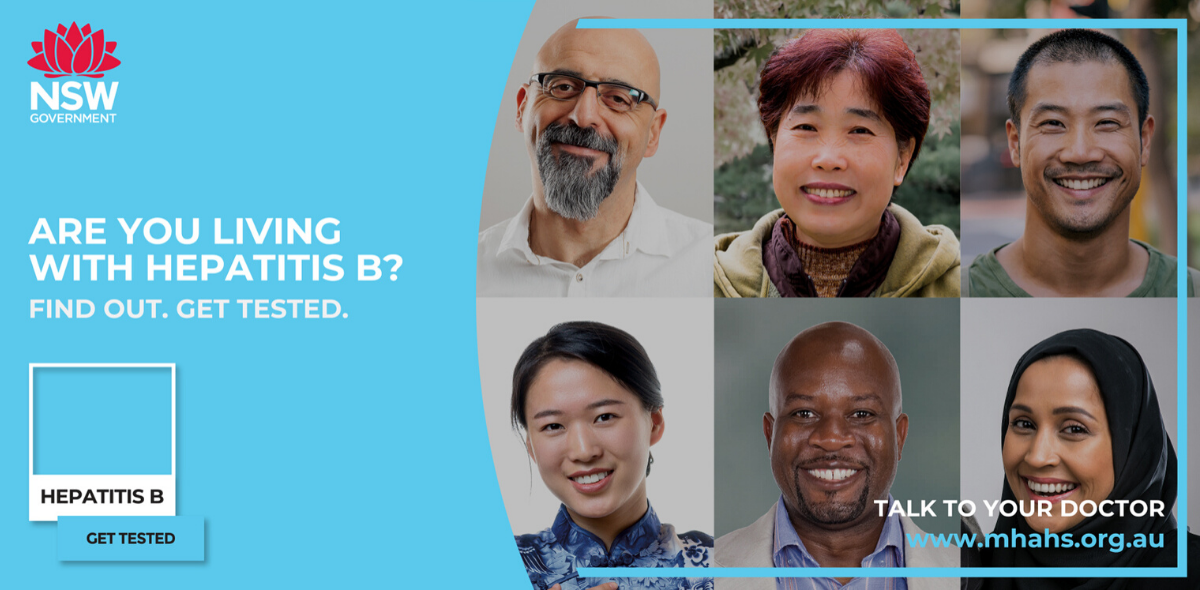 According to the World Hepatitis Alliance, globally an estimated 325 million people are living with viral hepatitis with about 290 million unaware of their status. Untreated it can lead to liver cancer.
There are more than 230,034 people living with chronic (long term) hepatitis B in Australia with about 83,812 living in NSW. Almost 50 percent of people living with chronic hepatitis B are undiagnosed. Many are born overseas and diagnosed too late to benefit from effective care and treatment.
Senior Staff Specialist at the AW Morrow Gastro and Liver Centre, Royal Prince Alfred Hospital, Associate Professor Simone Strasser has called for more awareness and collaboration to highlight the many benefits of people knowing their hepatitis B status.
"Finding if you have hepatitis B matters now more than ever before. Effective treatments are available which improve the health of people living with chronic hepatitis B. Early access to treatment prevents serious liver damage and allows people to live longer, healthier lives. If you know your status, you can also take action to prevent passing it on to other people," said Dr Strasser.
The campaign encourages people to speak to their doctor and families about getting a hepatitis B test.
The campaign released four key points to tackle hepatitis B among diverse communities:
People from diverse communities should talk to their doctor and ask for a hepatitis B test. All conversations with your doctor remain private in Australia.
The only way to know if you have chronic hepatitis B is by having a specific blood test.
Hepatitis B is common in many diverse communities, although most people with hepatitis B remain unaware and do not have any symptoms.
Effective treatments are available that control the hepatitis B virus and reduce liver damage and the risk of liver cancer.
For media interviews,  please call Sonam Paljor at 95151234 or email This email address is being protected from spambots. You need JavaScript enabled to view it.