Diversity News is the e-newsletter for the Multicultural HIV and Hepatitis Service. Published twice-yearly, Diversity News is an excellent way to keep up-to-date with current issues in HIV, hepatitis B and hepatitis C among culturally and linguistically diverse communities.
The feature article from our latest issue (Summer 2017) is below.
Feature Article
A focus on young Asian men


To achieve the NSW goal of the virtual elimination of HIV by 2020, MHAHS is focusing its efforts to reach people from culturally and linguistically diverse (CALD) backgrounds at risk of late HIV diagnosis, particularly young Asian gay and bisexual  men (GBM). While high uptake of Pre-exposure prophylaxis (PrEP) to prevent HIV, higher early treatment uptake, and more frequent testing have all contributed to a decline in new HIV diagnoses over the past six years, for the first time, the number of overseas born GBM diagnosed with HIV now exceeds the number of Australian born GBM diagnosed with HIV (1).
In particular, the past few years have seen a rise in HIV notifications in NSW among Asian gay and homosexually active men with many being diagnosed at a late stage of infection. (2).
While the EPIC NSW pre-exposure (PrEP) trial has seen a steady increase in enrolments, Asian GBM have been underrepresented in the trial since its commencement in March 2016 (2).
More focused efforts are therefore needed to improve engagement and reach those at risk of longstanding HIV infection, particularly those who are not community attached, who come from culturally and linguistically diverse backgrounds and may not identify as gay or bisexual (1).
Men from CALD backgrounds often face significant barriers in accessing HIV care and prevention including language barriers, varying levels of HIV knowledge, stigma and discrimination within their communities, previous negative experiences of health care, limited understanding of the NSW health system, as well as concerns around privacy and confidentiality.
Asian men are not a homogenous group. They come from a range of countries, cultures, ethnicities and religions, all of which shape their experience and influence the way they access health information and services.
To ensure the NSW HIV health promotion response is appropriately targeted, culturally sensitive and provides easy access to HIV information and the range of contemporary HIV testing, prevention and treatment options available in NSW, MHAHS is working in close collaboration with sector and other key stakeholders on a broad range of initiatives:
Qualitative interviews with key informants including community members, international students and sector clinicians are being undertaken to
inform a multi-channel PrEP promotional strategy and gain an in-depth understanding of young Asian men's knowledge and perceptions of PrEP as well as the barriers they face in accessing PrEP.
A unique, settings-based community engagement project with international students with a particular focus on HIV testing options and PreP has commenced, in response to the ongoing increases to the number of Asian international student enrolments in NSW.
A multi-channel promotional strategy promoting DBS HIV testing to CALD communities, including social media campaigns targeting priority communities.
A new multilingual resource providing information on contemporary HIV testing, treatment and prevention in partnership with ACON, Positive Life and Pozhet .
Targeted ethnic media campaigns to promote HIV prevention, testing and treatment options to priority communities in NSW.
Workforce development focusing on HIV testing, treatment and prevention is being provided to key multicultural and diversity services.
Features from our previous editions 

March 2017

PrEP and priority populations
 
One year ago the EPIC NSW pre-exposure prophylaxis (PrEP) trial commenced, where people at high risk of exposure to HIV take antiretroviral medications to prevent infection. The trial will help determine how to maximise the impact of PrEP at a population level. Accurately targeting and rapidly enrolling participants has been crucial to the trial's effectiveness and enrolments have extended well beyond initial expectations.

In 2016, almost half of new HIV diagnoses in NSW were in people born overseas, reported in the NSW HIV Strategy 2016-2020 Data Report. Of the PrEP trial participants enrolled in 2016 who completed a behaviour questionnaire, 37% were born overseas, according to the same data report. A proactive approach by public health providers has played a crucial role in the uptake of PrEP among priority populations, including people from culturally and linguistically diverse (CALD) backgrounds, and research has recommended that this type of culturally specific work continues.

Barriers to healthcare are typically higher for people from CALD backgrounds who may face varying levels of HIV knowledge, support or stigma within their communities, and who may be wary or unable to negotiate the complexity of the health system. If a person is unfamiliar with the health system and lacks confidence in talking about HIV, they are less likely to know about the PrEP trial and less likely to ask a healthcare provider about enrolment. Anecdotally, healthcare professionals say that word-of-mouth has been a key driver in the rapid enrolment of participants in the PrEP trial.

In Australia, we are uniquely positioned to learn from the implementation of PrEP in countries such as the US and UK. Research on PrEP for African migrants in Europe has recognised that distribution of PrEP is further reinforcing health disparities among culturally diverse groups (1). In the United States, clinicians and community workers are concerned that HIV prevention methods are widening already significant racial disparities in infection rates (2). Similar disparities have been found in two recent NSW surveys. In January ACON reported that Asian men who have sex with men are underrepresented in the current NSW PrEP trial (3). A survey by the Kirby Institute released in May found significant gaps among NSW CALD communities in relation to HIV knowledge (4).

All of these surveys recommend culturally specific health promotion programs, developed in collaboration with priority communities. Public health providers in NSW have taken this proactive approach. MHAHS has partnered with ACON to produce a PrEP participants' information booklet, wallet cards and a low literacy resource in plain English and 7 priority languages: Arabic, Chinese, Indonesian, Portuguese, Spanish, Thai and Vietnamese. Dating app Grindr has also been used to broadcast messages about PrEP in 4 languages. Further proactive action can be taken by building capacity among healthcare providers, continued collaboration between HIV services and multicultural health services with community groups, and culture and gender-specific programs involving the communities themselves.
To find factsheets on PrEP in 7 languages as well as plain English, visit this page on our website 
1) PrEP for African Migrants in Europe? The Lancet, vol 3, Nov 2016
2) PrEP, a Dream Deferred, Poz Magazine, 9 January 2017
3) DISCUSSION PAPER - Effective HIV prevention and health promotion among Asian gay and homosexually active men in New South Wales, ACON, January 2017
4) HIV Knowledge, Risk Behaviour and Testing: A community survey in people from CALD backgrounds in NSW, Kirby Institute, UNSW, 2016.
December 2016 
July 2016
Is NSW seeing a HIV epidemic among Philippines-born MSM?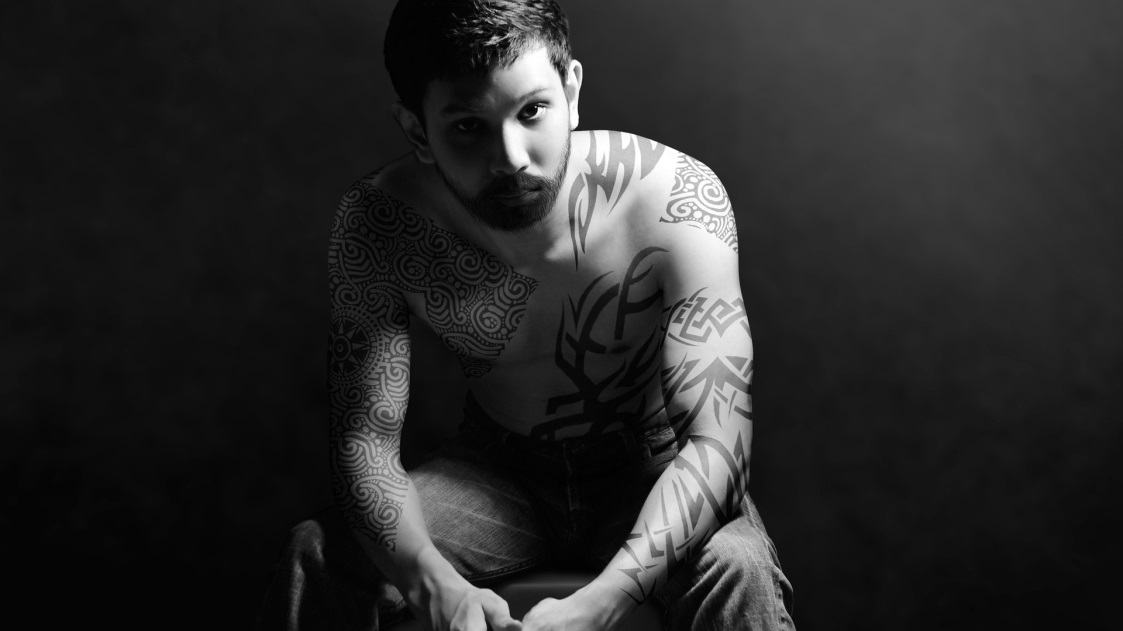 HIV rates in Philippines-born MSM are rising in NSW.
From 2009 to 2014, HIV notifications among Philippines-born MSM in NSW have more than doubled, according to unpublished data from the NSW Ministry of Health.  In 2014, Philippines-born MSM made up 6% of all NSW HIV notifications while being less than 1% of the population. For the first time in history, the Philippines was the highest ranking country of birth (alongside China) for non-Australian born HIV notifications in NSW.
This increase reflects the HIV epidemic in the Philippines.
In the past decade, the Philippines has experienced a dramatic increase in HIV notifications. In 2007, 342 cases were reported. Since then, notifications have increased seventeen-fold, reaching 6,011 notifications in 2014.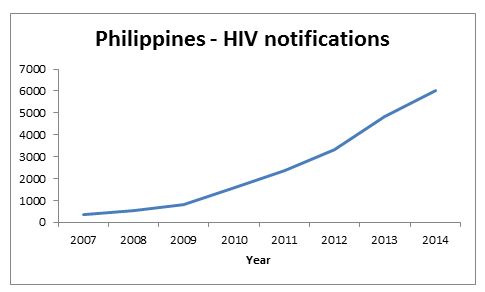 In 2014, male-to-male sex accounted for 80% of notifications, with the biggest proportion aged from 20-29. In both timing and affected populations, the Filipino HIV epidemic reflects that of Philippines-born MSM in NSW. If this pattern continues, HIV notifications among Philippines-born MSM in NSW will continue to increase.
Local HIV programs overlook Filipino MSM
Local HIV programs target culturally and linguistically diverse (CALD) populations with the highest needs. For more than a decade, efforts have focused on Chinese, Thai and sub-Saharan African communities due to their consistently high numbers of HIV notifications.  Yet, despite steady increases in HIV notifications over the last five years, Philippines-born MSM have received little to no direct attention from either mainstream or CALD-specific HIV programs. The most likely reason for this is CALD-specific HIV programs do not prioritise Filipino MSM because of their sound levels of English fluency (English is a national language of the Philippines and is widely spoken in NSW migrant communities, particularly amongst younger people).  The reasoning is English fluency makes Filipino MSM reachable by mainstream HIV programs and therefore do not warrant the same priority as other communities among which fluent English is less common. On the other hand, mainstream programs do not prioritise Filipino MSM because they see them as 'the responsibility' of CALD programs.
Culture is vital
While mainstream resources can be read and understood by Filipino MSM, their effectiveness is limited because they do not consider cultural beliefs and patterns. This issue is relevant to all migrant communities from British ex-colonies as well as second generation migrants where language is no longer a barrier, but country-of-origin cultural norms still operate. It is worth noting that plain English, that is English that focuses on clarity and brevity, improves readability in both CALD and non-CALD audience alike. Cultural beliefs and patterns are fluid, difficult to address and sometimes even difficult to describe. Despite these challenges, they are vital to meaningful health promotion with CALD communities.
Sources
The dire sexual health crisis among MSM in the Philippines: an exploding HIV epidemic in the absence of essential health services. (Ross, A.G.P. et al, 2015) HIV an 'epidemic among high-risk groups' in 8 PH cities; P600M sought to stop virus. Newsinfo.inquirer.net