Hepatitis is a global issue that demands urgent attention. That's why this year's World Hepatitis Day (28 July) carries the powerful theme of "We're Not Waiting". It's a call to action to increase efforts in eliminating hepatitis and recognizing those who are already making a positive impact in their lives and communities. This campaign is driven by the belief that we can eliminate hepatitis by 2030 through community action and collective determination.
Joining the cause, the Multicultural HIV and Hepatitis Service (MHAHS) is promoting its booklet "Hepatitis B. It's Family Business." This comprehensive booklet has been specifically designed for individuals from diverse cultural and linguistic backgrounds. It is available in multiple languages including English, Arabic, Chinese, Indonesian, Khmer, Korean, Thai, and Vietnamese. You can download the e-booklet here or order hard copies by contacting MHAHS.

"We cannot afford to delay hepatitis B testing. Many people in our community might not even realize they have chronic hepatitis B," warned Professor Benjamin Cowie, director of the Australian WHO Collaborating Centre for Viral Hepatitis at the Doherty Institute, emphasizing the urgency of the matter.

"It is important to understand that without proper care and treatment, hepatitis B can progress to liver cancer, which is truly alarming. Shockingly, every 30 seconds, someone around the world loses their life to a hepatitis-related illness in 2023. That's why early diagnosis and prompt treatment are absolutely vital to prevent these heartbreaking outcomes. The only way to know for sure if you have hepatitis B is by undergoing a simple test. Don't wait, get tested today."

In Australia, an estimated 200,385 people were living with chronic hepatitis B by the end of 2021. Among them, around 76% were born overseas, with Southeast Asia and Northeast Asia contributing significantly to these numbers. In NSW nearly 72,058 people are living with chronic hepatitis B, but less than 27% are receiving regular care and treatment. This disproportionately affects community members born overseas.

That's why the "Are you living with hepatitis B? Find Out. Get Tested" campaign is urging people from diverse communities to prioritize their liver health and get tested for hepatitis B. The campaign's messages are available in English, Arabic, Chinese, Korean, and Vietnamese to ensure accessibility and inclusivity.

"We are fully committed to helping our diverse communities prioritize their well-being and liver health," stated Gai Stackpool, Deputy Manager of the Multicultural HIV and Hepatitis Service.

"Our campaign provides individuals with culturally relevant information, empowering them to make informed choices and take meaningful action."

We strongly encourage community members to consult their doctors about hepatitis B and schedule a test. Hepatitis B testing is free if you have a Medicare card. For those without a Medicare Card, please contact NSW Health Sexual Health Clinics regarding free Hepatitis testing. Remember, all conversations with your doctor in Australia remain confidential.

For interviews in languages other than English, please call Sonam Paljor on 0436 649 000 or email This email address is being protected from spambots. You need JavaScript enabled to view it.
-ENDS-
The Multicultural HIV and Hepatitis Service (MHAHS) is encouraging people from diverse communities to get tested for HIV during the HIV Testing Week. With around 9% of people with HIV in Australia unaware of their status, testing is crucial for the elimination of HIV transmission by 2030.
Barbara Luisi, Director of MHAHS, emphasized that HIV testing has never been more accessible, with a range of options available.
"These testing options are widely available and easily accessible, allowing individuals to take control of their health and well-being," says Ms Luisi. Options available include Rapid HIV Testing, Home-based Testing, and Dried Blood Spot Testing. For more information, visit https://mhahs.org.au/index.php/en/hiv/testing-options.
MHAHS is also promoting their award-winning booklet "HIV: What You Need to Know" which is available for download as an e-booklet at https://mhahs.org.au/index.php/en/hiv/hiv-what-you-need-to-know. The booklet contains essential information about HIV, testing, treatment, and living with HIV.
For those who prefer a private testing option, they can choose Dried Blood Spot (DBS) testing which can be ordered online at https://mhahs.org.au/index.php/en/hiv/testing-for-hiv-at-home. DBS testing is easy to use and provides accurate results in a matter of days.
MHAHS is running a multimedia campaign across 10 communities, which includes a toolkit containing details of HIV booklets, videos, radio announcements, and social media tiles. The toolkit is designed to help organizations and individuals promote HIV testing and awareness in their communities. For more information, visit https://www.mhahs.org.au/index.php/ar/dbs-kit
For more information, contact Sonam Paljor on 0436 649 000 or email This email address is being protected from spambots. You need JavaScript enabled to view it.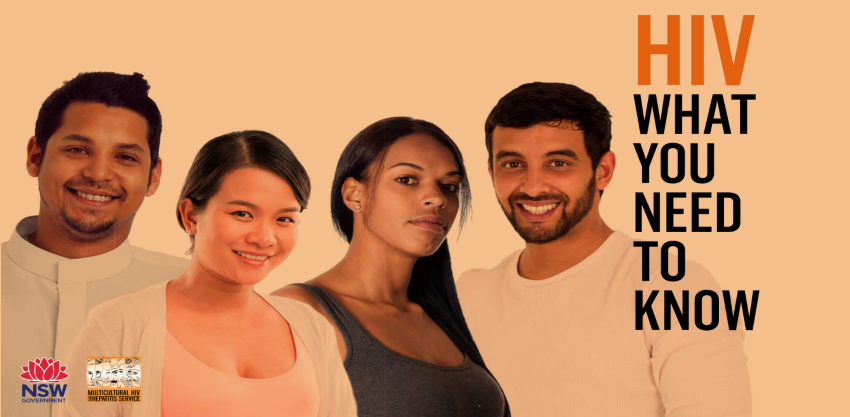 There is a pressing need to make HIV prevention, testing and treatment services more inclusive, according to this year's World AIDS Day campaign. The campaign theme 'Equalise' highlights the need to tackle HIV stigma and increase access to these key services, so they are welcoming to everyone including people from diverse communities.
HIV remains a public health concern in Australia, with an estimated 29,090 people living with HIV (Kirby Institute 2020 report). Nearly one in ten Australians living with HIV are unaware they have the virus and may be unknowingly passing on the virus to others.


'Fear of HIV stigma and discrimination is a major reason behind why many people from diverse communities still hesitate to test for HIV,' said Barbara Luisi, Manager of the Multicultural HIV and Hepatitis Service (MHAHS).
'Our communities are more likely to miss out on accessing key HIV services on time. The proportion of late HIV diagnoses is higher among people from CALD communities. Testing early is key for accessing HIV treatment quickly. HIV treatment is free, even if you don't have a Medicare card.'
Engaging people from diverse communities is a critical component of our response to HIV, according to Dr Rachel Burdon, Acting Head of Sexual Health Services at Sydney Local Health District
'Community engagement provides an opportunity for individuals and organisations to play an active role in tackling HIV stigma. We need to continue working together to improve uptake of HIV testing, and reduce HIV transmission,' said Dr Burdon.  
The Multicultural HIV and Hepatitis Service (MHAHS) is supporting the campaign by promoting its award-winning resource HIV: What you need to know, available in eight languages: English, Arabic, Chinese, Indonesian, Portuguese, Spanish, Thai, and Vietnamese. The e-booklet can be downloaded from the MHAHS website, and free hard copies are available to order.
For media interviews, please contact Sonam Paljor at 9515 1234 or email This email address is being protected from spambots. You need JavaScript enabled to view it.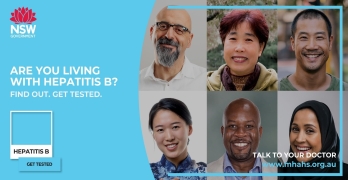 Every year on 28th July, World Hepatitis Day is observed to raise global awareness of hepatitis and encourage prevention, diagnosis and treatment. Sydney Local Health District is reminding local communities of the importance of hepatitis B testing for early diagnosis.
"Testing for hepatitis B can't wait. Many people in our community are still unaware they may be living with chronic hepatitis B," said Professor Benjamin Cowie, director of the Australian WHO Collaborating Centre for Viral Hepatitis at the Doherty Institute.
"Without care and treatment, hepatitis B can lead to liver cancer. Still in 2022 worldwide, a person dies every 30 seconds from a hepatitis related illness. Early diagnosis and timely treatment are the key to prevent these tragic outcomes. The only way to find out whether you have hepatitis B is to get tested," added Professor Cowie.
Currently in NSW, nearly 80,000 people are estimated to be living with chronic hepatitis B, while only less than 27% are receiving regular care and treatment. Community members born overseas are disproportionately affected.

The Are you living with hepatitis B? Find Out. Get Tested campaign encourages people from diverse communities to get tested for hepatitis B and look after their liver health. Campaign messages are available in English, Arabic, Chinese, Korean and Vietnamese.

"We are here to help our diverse communities take care of themselves and look after their liver health," said Barbara Luisi, Director of Diversity Programs and Strategy Hub. "Our campaign gives quick access to culturally appropriate information so people can make informed decisions and take action."

"We encourage community members to ask their doctor about hepatitis B and book a test. Hepatitis B testing is free if you have a Medicare card. If you don't have a Medicare Card, most NSW Health Sexual Health Clinics can offer free testing. In Australia, all conversations with your doctor remain private," added Ms Luisi.

For interviews in language, please call Sonam Paljor at 0436 649 000 or email This email address is being protected from spambots. You need JavaScript enabled to view it.


-ENDS-